PHOTONIC HYBRIDS AND NANOMATERIALS GROUP
Aveiro-Portugal
university of aveiro
theoria poiesis praxis
ciceco
aveiro institute of materials


Back to Top
Instantaneous ballistic velocity of suspended Brownian nanocrystals measured by upconversion nanothermometry
Nature Nanotechnology
"Brownian motion is one of the most fascinating phenomena in nature. Here, we report the measurement of the instantaneous ballistic velocity of Brownian nanocrystals suspended in both aqueous and organic solvents."
ACCESS PAPER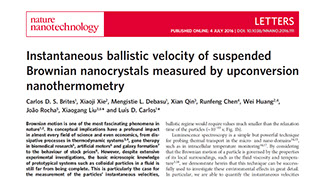 Implementing Thermometry on Silicon Surfaces Functionalized by Lanthanide-Doped Self-Assembled Polymer Monolayers
Advanced Functional Materials
"The thermometric functionalization of the Si surface with Tb3+ and Eu3+ complexes leads to a thermal sensitivity up to 1.43% K−1 , a cycle–recycle reliability of 98.6%, and a temperature uncertainty of less than 0.3 K. The functionalized surface presents reversible bistability that can be used as an optically active molecular demultiplexer."
HIGHLIGHTED IN THE COVER
ACCESS PAPER
Excitation of Magnetic Dipole Transitions at Optical Frequencies
Physical Review Letters
"We use the magnetic field distribution of an azimuthally polarized focused laser beam to excite a magnetic dipole transition in Eu3+ ions embedded in a Y2O3 NP. The absence of the electric field at the focus of an azimuthally polarized beam allows us to unambiguously demonstrate that the NP is excited by the magnetic dipole transition near 527.5 nm. When the laser wavelength is resonant with the magnetic dipole transition, the NP maps the local magnetic field distribution. "
ACCESS PAPER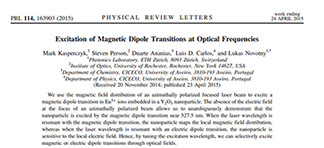 Joining Time-Resolved Thermometry and Magnetic-Induced Heating in a Single Nanoparticle Unveils Intriguing Thermal Properties at the Nanoscale
ACS Nano
"Here we demonstrate a successful realization of magnetically induced and optically temperature readout. The ratiometric thermometric probes are dual-emissive Eu3+/Tb3+ lanthanide complexes. Cells were incubated with the nanoparticles, and fluorescence microscopy permits the mapping of the intracellular local temperature".
ACCESS PAPER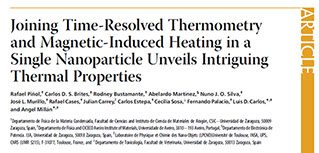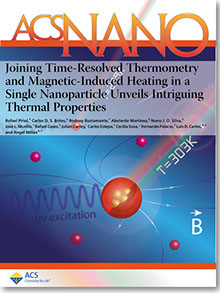 A High-Temperature Molecular Ferroelectric Zn/Dy Complex Exhibiting Single-Ion-Magnet Behavior and Lanthanide Luminescence
Angewandte Chemie
"Multifunctional molecular ferroelectrics are exciting materials synthesized using molecular chemistry concepts, which may combine a spontaneous electrical polarization, switched upon applying an electric field, with another physical property. We investigate the correlations between the electric polarization and the crystal structure as well as between the low-temperature magnetic slow relaxation and the optical properties."
ACCESS PAPER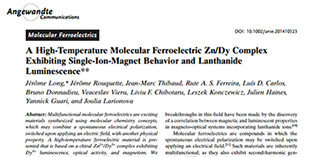 Efficient and tuneable photoluminescent boehmite hybrid nanoplates lacking metal activator centres for single-phase white LEDs
Nature Communications
" Here we report a simple route to design high-efficient WLEDs by combining a commercial ultraviolet LED chip (InGaAsN, 390 nm) and boehmite (γ-AlOOH) hybrid nanoplates. Unusually high quantum yields (ηyield=38–58%) result from a synergic energy transfer between the boehmite-related states and the triplet states of the ​benzoate ligands bound to the surface of the nanoplates."
ACCESS PAPER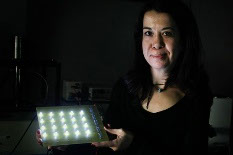 Back to Top